Improve your site's UX with Magento 2 Previous Next Product Page extension now!
Key Features of Magento 2 Ajax Add To Cart Extension
Easily add product to cart using Ajax pop-up on product list page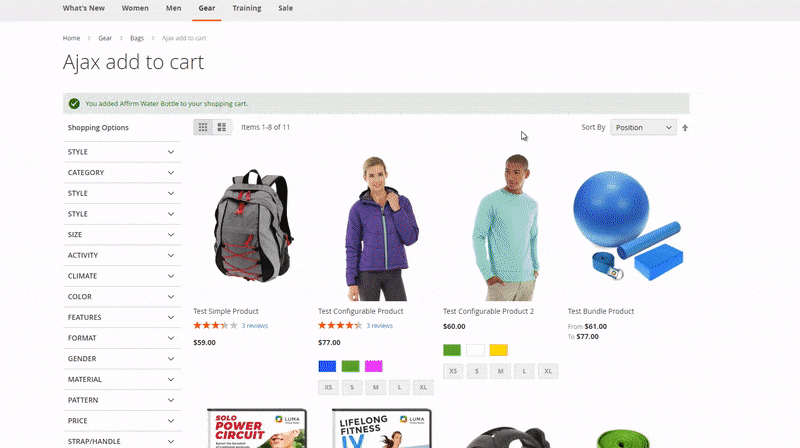 Process of adding to cart using Ajax in Magento 2
Overriding the limitation of add-to-cart process of Magento 2 default, Ajax Add to Cart extension for Magento 2 allows customer to quickly order product in Ajax pop-up right on product list page. This is especially convenient when adding product with many options to cart.
AJAX pop-up to select product options without visiting product page
Quicker to select custom options of product by Ajax pop-up
Without redirecting to product page, the extension display Ajax cart pop-up to choose product options when customers add bundle, grouped and configurable product to cart like Quick View function in Magento 2. Magento 2 Ajax Add to Cart extension support the ajax cart function for Home Page, Category Page, Product Page, Search Result Page and even on the Suggested block of the Ajax popup. For example, after adding the product A to cart, the extension displays a popup to announce that "You added A to your shopping cart" and shows several related products of A. You can add the related product in the popup without being redirected to its product page.
Promote related/up-sell/cross-sell products in Ajax pop-up
(know more about this new function of Magento 2 Ajax Add to Cart extension)
Magento 2 related product block in Ajax pop-up
After adding product to cart successfully, customers can use Ajax pop-up to double check information of product added to cart with cart quantity and cart subtotal. More importantly, the Ajax pop-up promotes related products, up-sell products and cross-sell products to support cross-selling and boosting sale.
Easily customize design and settings of popup
Ajax pop-up design and content can easily be tailored. Admin can change text and color of buttons, or include/exclude components of pop-up (product image, price, checkout link…) with Magento 2 Ajax Add to Cart extension.
Work with configurable, bundle, grouped, simple, and downloadable product

Responsive for mobiles, tablets and desktops
Why Magento 2 Ajax Add To Cart is your must-have extension?
Allow quicker process of adding product to shopping cart
Magento 2 Ajax Add To Cart is an ideal tool to cut down the step of loading new page to choose custom options when customers want to add product to cart, especially configurable, grouped or bundle products by pop-up in Magento 2. Easier and faster process of Ajax adding product to cart will absolutely raise user experience and encourage customers to return next time for more purchase. View 7 reasons proving Ajax Cart Magento 2 is ideal for you.
Develop better marketing strategy for products and boost conversion rate
Thanks to the suggested block placed in Ajax add-to-cart popup, admin can cleverly introduce related products after customers finish adding items to cart. With this amazing function of Magento 2 Ajax Cart Pop-up, admin can come up with suitable marketing strategy for each product and subliminally motivate customers to add more products to cart.
Override Magento Default with Ajax Add-To-Cart Process
The default provides basic function to add product to cart but is still limited and does not optimize to meet increasing demand of online shoppers. It is undoubtedly to state that Ajax Add To Cart extension offers functions that completely revolutionize Magento 2 add-to-cart process.
Reviews
The configurations are very simple but the features really impress me by their influence in customer experience. Great!

verified buyer

Reviewed by

Betty J. Pirtle

on 18 October 2018

Thanks to Magento 2 Ajax Add To Cart extension, not only do the customers easily add the product to cart, but I can push various upsell/cross-sell/related items as well. The sales have presented a significant increase in the last quarter. Great!

verified buyer

Reviewed by

Walter K. Ford

on 04 April 2018

I seldom leave my feedback on sites, but Magento 2 Ajax Add To Cart is exceptional. The features are good and the support team is so enthusiastic that I feel like they always present whenever I need with quick, reliable and effective responses.

verified buyer

Reviewed by

Catherine R. Waldo

on 14 March 2018

Wonderful features but settings were a bit complicated for me so I contacted BSSCommerce's support team. They responded right away and was really helpful! I'll come back for more installation.

verified buyer

Reviewed by

Connie J. Bell

on 12 March 2018

Magento 2 Ajax add to cart extension is definitely a must-have module for ones who wanna speed up order process and improve customers' experience. I have installed it for nearly 5 months and it works very well.

verified buyer

Reviewed by

Andrew Simpson

on 08 March 2018

Every feature works as promised.

Magento 2 Ajax Add to Cart by BSSCommerce worked well with our custom theme without any errors. I definitely recommend it for every merchant, and also for developers, as the features are wonderful and smooth!

verified buyer

Reviewed by

Rose

on 05 March 2018

Great extension and quick support!

Magento 2 ajax add to cart is a handy extension to improve the looks of sites with eye-catching popups and increase customers shopping experience. I love it.

verified buyer

Reviewed by

Samuel

on 02 March 2018

I needed some customizations after installing the module, and the support team did them very fast and reliable. Now, all features still work smoothly without any bugs.

verified buyer

Reviewed by

Susan B. Blank

on 27 February 2018

Since using this extension, our customers give wonderful feedback about speed of ordering product.

verified buyer

Reviewed by

Sandra S. Miranda

on 29 January 2018

Ajax add to cart extension is flawless. I installed it on my site a while ago and it worked exactly as the description with all the ajax popup, related product and the ajax is also applied for the related products in ajax popup. I come back to buy this extension twice for my client sites and will recommend this for others.


verified buyer

Reviewed by

Jasoncarder

on 22 August 2017

I will recommend Ajax Add to Cart for others

Adding product to cart has never been easy and fast like that. Product with custom option can be immediately added to cart via ajax popup. The only weak point is that it does not work on wishlist.
Anyways, it is still great for a $79 extension ;)


verified buyer

Reviewed by

Edna Montgomery

on 10 July 2017

No error found - absolutely ideal for our site

No complaint for the extension. It works smooth like a charm! The ajax add to cart is applied for product list page, makes it super easy for the customer to shop on catalog.
Ideal for our site!

verified buyer

Reviewed by

Russel

on 04 May 2017

The support is quick. I had a request to customize the module and they did it in 2 hours. Cannot complain anything.

verified buyer

Reviewed by

Daniel

on 24 March 2017

Our customers can now add products to cart quickly from catalogue. Totally good for any site!

verified buyer

Reviewed by

Alisa

on 15 March 2017

Nice one. Thumbs up for BSS!

There was some issues with the module. But Support team has fixed these issues for us.

Great Support!
Nice extension!
Fully Satisfied :)

Thanks

verified buyer

Reviewed by

Beverly

on 06 March 2017

Nice extension and easy to configure

I can freely configure or customize design the popup, and including or excluding any components as I want. I also found it very easy to master the backend configuration. The developer must have done an excellent job. Easy and effective!


verified buyer

Reviewed by

Javier

on 16 January 2017

Nice extension – Keep up the good work!

The extension works well as described. I can really notice how quick and effective add-to-cart process after installing the module on site. I also love the policy of free installation from the support team. Thumbs up for BSS, keep up the good work!


verified buyer

Reviewed by

Joe

on 12 January 2017

Our customers sent good feedback about our shoes store. We want to thank you for your enthusiastic support. Thanks again for your extension for Magento 2, it really boosted our sales!

verified buyer

Reviewed by

Philbert

on 08 August 2016

I like it! This made my site become more attractive and professional. I think it is a smart choice for online store owners
Highly recommended for Magento stores!

verified buyer

Reviewed by

Baird

on 08 August 2016
v1.0.0: First Release
v1.0.1: Fix bug with countdown time action
v1.0.2: Compatible with grouped product. Better Compatibility. Maintainability issue fixes. Minor bug fixes
v1.0.6: Show Related Products in Ajax popup; Ability to add product from Comparison list to cart; Fix Countdown time issue when leave the configuration blank; Fix Quick View popup error when enable 'Show 'Go to product page' link; Enhance responsive
v1.0.7: Fix bug when adding out of stock products
v1.0.8: Codes optimized to be more compatible with custom themes
v1.0.9: Fix Update Cart issue
v1.1.0: Fix bug with Grouped Product and Select option from Quick view popup
v1.1.1: Compatible with Grouped Product with Custom Options Extension
v1.1.3: Fix bug of not showing product price with grouped product; Fix display price with tax options in success popup
v1.1.4: Improve responsive
v1.1.5: Fix bug of unidentified Add to cart button due to no '#maincontent' element in some custom themes
v1.1.6: Display notice message on quickview pop-up
v1.1.7: Fix bug of not adding to cart products with custom option of which type is File
v1.1.8: Support dispplay price including tax on popup
v1.1.9: Fix display of Button Add to cart of products on Suggest product list in popup
v1.2.0: Fix product display issue on Suggest list