It's basic knowledge that all the websites compete for visibility in the search engines.
The store owners always want to attract new visitors and to achieve this they need their websites to be ranked as high as possible in SERPs. 
Magento 2 sitemaps are one of the best tools to reach this goal.
In this article, we will introduce a few simple steps to help you to configure Magento 2 sitemap generation and upgrade it without trouble.
Read our all-in-one Magento 2 SEO Guide for further understanding and optimizing SEO!
Why Is Magento 2 Sitemap Important?
A Magento 2 sitemap or Magento sitemap URL is used by webmasters to inform search engines about pages on their websites that are ready to be crawled or to give visitors an overview of a website. These two functions are respectively the function of XML Sitemap and HTML Sitemap.  
The use of both XML and HTML Sitemap is beneficial for every website if these sitemaps are optimized. For that reason, this topic is helpful for Magento store owners as instructions to configure and upgrade Magento 2 sitemap according to their needs.   
Which type of sitemap is available in Default Magento? 
XML Sitemap: YES
As mentioned frequently in our blog posts, XML Sitemap is an XML file that lists URLs along with additional metadata about each URL of a website. This element allows webmasters to inform search engines about pages available for crawling on their websites. 
By using an XML sitemap, you can: 
Speed up the indexing process of important pages and specify the priority so that search engines can order the crawling of those pages. 
Give search engines temporal information such as when a page last updated (via "lastmod" tag), or how often a page is likely to update (via "changefreq" tag). 
Get information back from Google Webmaster Central. For example, you can track Googlebot activity with your pages. 
HTML Sitemap: NO 
Unlike XML Sitemap, which supports search engine activity, HTML Sitemap allows visitors to have an overview of your website to improve their navigation. 
Here is an example of an HTML sitemap. 
Unfortunately, default Magento itself does not support HTML Sitemap. 
CURIOUS ABOUT Why HTML Sitemap Still Useful for SEO in 2020? This post will give you a more detailed view of the importance of this element. 
To add this sitemap on your website, store owners will need the support of Magento 2 sitemap generator extensions. We are going to talk about this solution in the third part of the post. 
Simple Steps to Configure Magento 2 XML Sitemap 
Add and generate a Magento 2 sitemap 
Sitemap Magento refers to XML Sitemap. This ecommerce platform provides admins with easy-to-understand settings so that you can add and configure XML Sitemap yourself without any help from an SEO specialist. 
The very first step to add an XML Sitemap is logging in to your administrator account, then follow these steps: 
On the admin panel, click Marketing => Site Map (under SEO & Search) => Add Sitemap
Enter Filename (for example: sitemap.xml) and Path (for example: "/") 
Choose a store view for the sitemap 
To finish, click Save & Generate 
After those steps are totally done, you will see the sitemap in the sitemap grid. 
Configure Magento 2 sitemap 
On the admin panel, navigate to Store => Configuration 
Under Catalog panel, choose XML Sitemap 
Open the Categories Options
Open the Frequency drop-down and choose one of these options: Always, Hourly, Daily, Weekly, Monthly, Yearly, or Never. This config allows you to determine how often sitemap categories are updated 
In the Priority box, enter a value between 0.0 and 1.0 to specify the priority of category sitemap update in relation to other content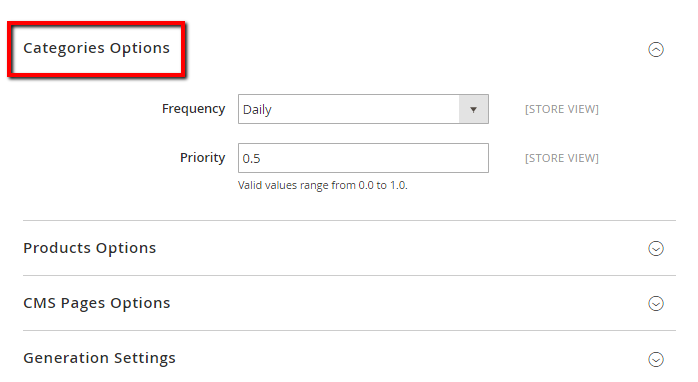 Under the Product Options section, choose the Frequency to specify how often sitemap CMS pages are updated
In the Priority box, enter a value between 0.0 and 1.0 to specify the priority of category sitemap update in relation to other content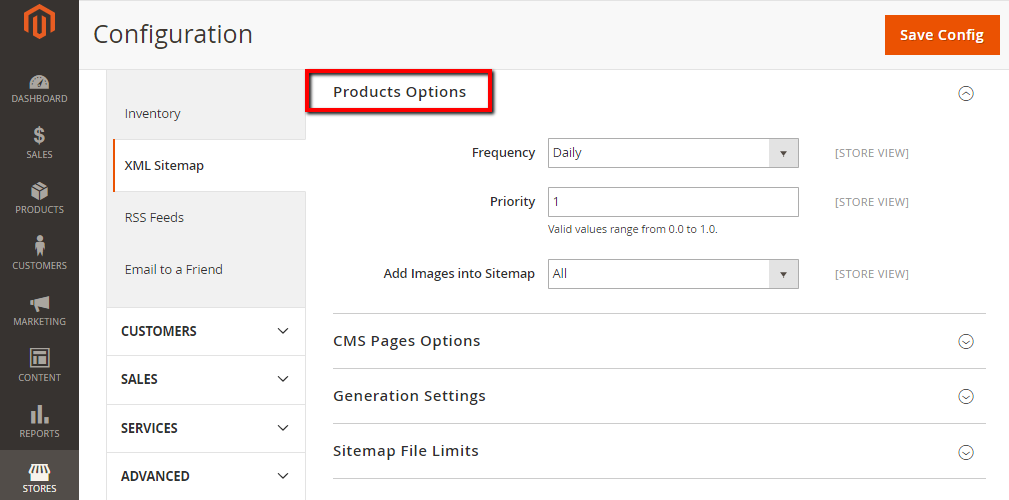 Configure CMS Pages Options in a similar way 
In General Settings section, set Enable to "Yes"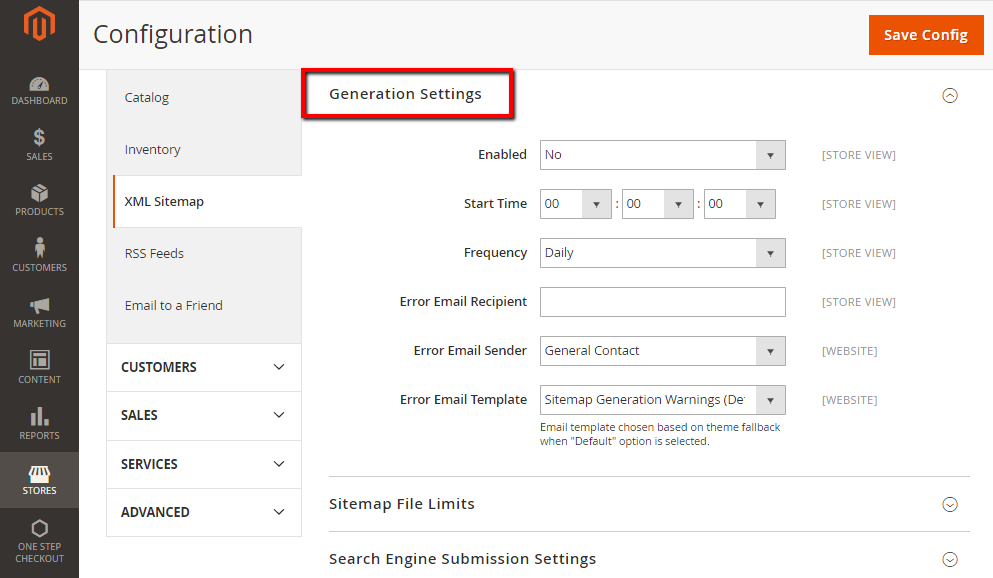 Select a time of the day that the sitemap Magento is updated 
Set Frequency to update the sitemap (Daily, Weekly, or Monthly) 
In Error Email Recipient, enter the email of the person who receives notifications when an error occurs during the Magento site map update process. You can separate each address with a comma 
 In Error Email Sender, select the store contact that will be the sender of error notifications 
Select an Error Email Template
Under Sitemap File Limits section, enter the maximum number of URLs that can be added to the sitemap in the maximum file size in bytes 

Finally, set Enable Submission to Robot.txt as Yes/No to enable directives to be sent to the robots.txt file 
To complete, click Save Config at the upper-right corner of the screen
READ MORE about how to configure & upgrade Magento 2 sitemap without trouble
New Level of Magento 2 Sitemap Generation at Your Fingertips 
Easy way to upgrade Magento 2 XML Sitemap 
Although default Magento supports XML sitemaps, there are still particular drawbacks that limit the use of store admins. 
Magento 2 XML Sitemap extension by BSS Commerce provides you with advanced XML Sitemap with out-of-box features. Those features allow the sitemap to be optimized easily and meet your flexible needs. 
INSTALL Magento 2 XML Sitemap, in addition to basic features like the default version, store admins can: 
Split the sitemap Magento into the smaller ones by top-level category, manufacture, or time
Exclude specific links from the sitemap by category, product ID, product type, and CMS page
Exclude product or category pages from the sitemap by configuring in the edit page
Add meta description for the XML sitemap 
Allow admins to include extra links to the sitemap 
Compatible with the latest version of Magento 
Add HTML Sitemap in Magento 2 
As mentioned above, HTML Sitemap is not available in Magento. However, admin stores can easily add one to your store with the support of Magento 2 Dynamic HTML Sitemap extension. 
By using this Magento 2 sitemap generator extension, your store will be more user-friendly with a convenient overview of how it is organized. Another great benefit it brings is internal cross-linking, which helps search engines to crawl and index your content more efficiently. 
Notably, it's totally free with great support policies. 
Features of Magento 2 Dynamic HTML Sitemap:
Auto-create a HTML sitemap 
Customize the URL key of the Magento site map 
Auto-update when any change occurs in your store's structure 
Include/exclude any link in your sitemap 
Remove product and category pages from the HTML sitemap via the edit page 
Display the HTML sitemap link in the header or footer
Work well with multiple store views 
Compatible with the latest version of Magento 
This is an example of an HTML sitemap in Magento 2 that the extension helps you create. 
One solution for Magento 2 generate sitemap
For those who want both advanced XML and HTML sitemap but want to save time and effort, Magento 2 SEO Extension is highly recommended.
This package supports two types of  Magento site maps with extra functions by integrating the two extensions above. It will help store admins to save so much time and effort.   
That's not all. The package also covers all necessary SEO factors for a comprehensive solution to boost rankings of every Magento website, including rich snippets, advanced breadcrumbs, robot meta tags, Hreflang tags, etc. 
Moreover, a free SEO audit service will be given to people who install Magento 2 SEO Extension to inspect the health of traffic and other SEO problems. 
Final Words
As you can see, it's very beneficial to configure Magento 2 sitemaps for ecommerce websites, which finally enhance SEO performance and boost up organic traffic.
We hope this blog post has supported you to do those. 
SEE MORE 23 Best Free Magento SEO Extensions or Magento SEO Extensions if you are interested in more solutions.  
BSS Commerce is one of the leading Magento extension providers and web development services in the world. With experienced and certified Magento developers, we commit to bring high-quality products and services to optimize your business effectively.
CONTACT NOW to let us know your problems. We are willing to support you every time.
Hi there! I'm Summer. I'm a big fan of business, ecommerce, and technology-related topics and now working as a Content Writer at BSS Commerce. It's such a great experience to share useful pieces of content for those who concern. This generates the motivation for me to read more and write hard.